The Final Drive with Jeremy Huber
---
November 20, 2015, 11:45 p.m. —  Another great show tonight as we caught up with Good Counsel's Bob Milloy, who previewed his team's matchup with DeMatha in the WCAC championship game; Broadneck's Rob Harris who recapped the Bruins upset of MD 4A East top seed, Old Mill; Bishop Ireton Head Coach Tony Verducci who previewed the Cardinals' VISAA title game showdown with Benedictine; Patuxent's Steve Crounse who looked back at his squad's hard fought win over Gwynn Park and Eastern's Jason Strickland who recapped the Ramblers' DCIAA – Stripes semifinal win over Theodore Roosevelt on Thursday.
---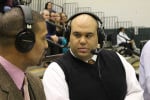 Jeremy Huber is a featured on air talent and play by play voice at DMVSTREAM.COM.
You can reach him by email at jrh0001@gmail.com
---
---

DMVSTREAM.com is a web site dedicated to broadcasting live sports in D.C., Maryland and Virginia. DMVSTREAM.com broadcasts pro, amateur, college, high school, AAU and youth games and tournaments to televisions, computers and mobile devices like iPads, iPhones and more. DMVSTREAM.com is a product of Synthesis Multimedia Productions/Koubaroulis LLC. — founded, owned and operated by longtime D.C. area sports personality B.J. Koubaroulis.