The Final Drive with Jeremy Huber
---
October 3, 2015, 12:00 a.m. — With wet weather effecting the weekend's slate, we bulked up the guest list which included #3 Lake Braddock coach Jim Poythress, who talked about the Bruins' emphatic win over Centreville, Carroll head coach Robert Harris who addressed the resurgent Lions' undefeated start and their weekend matchup with rival McNamara, Robinson head coach Scott Vossler who discussed the Rams' victory over conference foe, Chantilly, #18 Paint Branch head coach Michael Nesmith who talked about the Panthers' tight win against Blair, Annapolis head coach Nick Good-Malloy who broke down the Panthers' upset of Arundel and Brentsville head coach Ryan Smith, who talked about the Tigers' 5-0 start to the 2015 campaign.  Catch The Final Drive, Friday nights at 10:30 pm.
---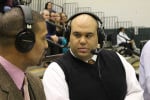 Jeremy Huber is a featured on air talent and play by play voice at DMVSTREAM.COM.
You can reach him by email at jrh0001@gmail.com
---
---

DMVSTREAM.com is a web site dedicated to broadcasting live sports in D.C., Maryland and Virginia. DMVSTREAM.com broadcasts pro, amateur, college, high school, AAU and youth games and tournaments to televisions, computers and mobile devices like iPads, iPhones and more. DMVSTREAM.com is a product of Synthesis Multimedia Productions/Koubaroulis LLC. — founded, owned and operated by longtime D.C. area sports personality B.J. Koubaroulis.