A partial replay of this game is available below. To view the full replay, purchase a copy.

 [wpshopcart_add_to_cart id="86″ ]
[wpshopcart_add_to_cart id="87″ ]
VIDEO: DMVSTREAM.COM founder B.J. Koubaroulis half-time interview.
As No. 1 DeMatha (7-1, 4-0 Washington Catholic Athletic Conference) hosts No. 8 Gonzaga (5-2, 3-0 WCAC) on Friday at the Prince George's County Sports and Learning Complex on Oct. 18, 2013, DMVSTREAM.COM will provide a college football style broadcast, complete with four camera angles, graphics, commercial roll-ins, and an 8-person crew, including play-by-play, color commentators, sidelines reporters, directors, producers and much more. VIDEO PREVIEW
The broadcast can be viewed free of charge in the video player above and can be viewed LIVE on computers, tablets and mobile devices. Watch it HERE. This is the page you should share on your social media sites like Facebook and Twitter so fans and friends can watch the game LIVE. While the game will kick off at 7 p.m., the DMVSTREAM.COM pre-game show will go live at 6:50 p.m. Play-by-play voice Jeremy Huber and analysts Josh Barr and Brian Gardner will have the call, while Marisa Pilla will work the sidelines.
WATCH A VIDEO PREVIEW OF THE GAME.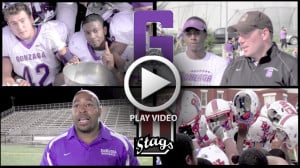 FANS…Want to get on the broadcast? Want to win a DMVSTREAM.COM T-Shirt?
Make a clever sign or poster with the words "DMVSTREAM.COM" and we'll get you on our broadcast and toss you a shirt. Shirts provided by DarkeGraphics.
[polldaddy poll=7481758]
For replays of our previous game broadcasts, check out our Archives.